Oscar Locksmith Supply Sdn. Bhd.
39, Jalan Austin Height 3,
Taman Mount Austin,
81100 Johor Bahru,
Johor, Malaysia.

+607-3613266

+607-3613266

RGN213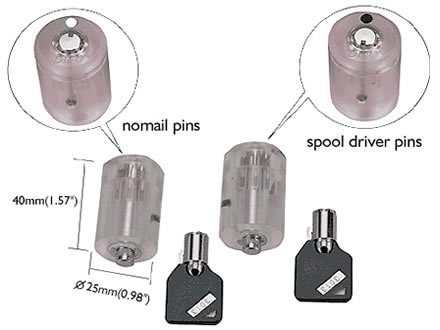 NOTE
:
(one set includes 2 cylinders)
USAGE
:
1
. This Dino's Visible Tubular Cylinder Set is special designed for training use, to help beginners to learn how to open tubular lock by open tool within a very short period.
It is made of special material and by high-tech skill to make it visible. The beginner can understand how tubular lock works very easily by it's visible function.
FEATURE
:
One set includes 2 units, the white color cylinder is composed of normal pins, the black color cylinder is composed of spool driver pins to train beginners to practice by different open level.
SPECIFICATION
:
1
. Weight: 40 grams/each piece/not include key.
2
. Suitable to carry very easily.
3
. Cylinder: made of high quality brass and chrome finishing.
4
. Each piece with one spare key.