Oscar Locksmith Supply Sdn. Bhd.
39, Jalan Austin Height 3,
Taman Mount Austin,
81100 Johor Bahru,
Johor, Malaysia.

+607-3613266

+607-3613266

RGN-212
Lock Pick --- DINO ---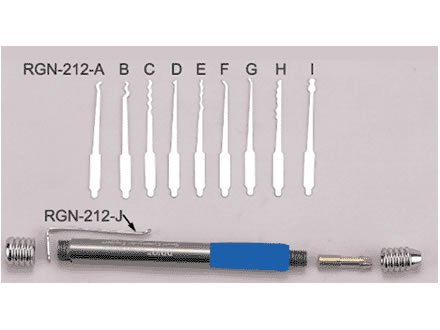 DINO Smart Commander Engineer (Pen Pick Set)
USAGE
:
This is not a pen. This Dino's Smart Commander Engineer is a pick set which is special designed for helping locksmith to carry easily everywhere.
FEATURE
:
1
. This pick set contains 9 most popular pick blade instruments(put inside in the handle of pen
pick set) and one strong flexibility excellent tension wrench(clip).
2
. This pick set is made of high quality materials not only through every necessary special design and every polish process to lighten and look like a high quality pen, but also it is a high quality professional pick set.
HOW TO OPERATE
:
1
. Inspect lock and keyway and select a suitable pick blade.
2
. Loosen the bolt on the top of this pen pick set, and take out the clip(tension wrench) straight, then take out the suitable pick blade.
3
. Loosen the bolt on the bottom of this pen pick set to install.
4
. Install the blade and tighten the bolt to open lock.
Caution!
Please note, there are two small gaps on the tension wrench (clip) to insert into the handle, take clip out and install clip must be straight up and down.
SPECIFICATION
:
1
.
Pick blade
: High flexibility stainless steel.
2
.
Clip(RGN-212-J
): It is strong tension wrench, made of high flexibility hardened carbon steel.
3.
Weight
: 38 grams(one full set).
4.
Suitable to carry and can be put on shirt pocket very easily.