Oscar Locksmith Supply Sdn. Bhd.
39, Jalan Austin Height 3,
Taman Mount Austin,
81100 Johor Bahru,
Johor, Malaysia.

+607-3613266

+607-3613266

RGN-210
Lock Pick --- DINO ---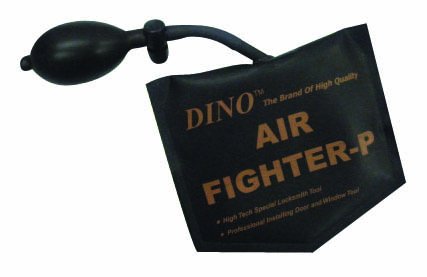 Air Fighter-P (The Best Car Opening Accessories)
The Dino's Air Fighter-P can help locksmith to finish car opening job quicker and easier, and save much time!
Important:
1
. The Air Fighter-P is capable of exerting extreme pressure. Please inflate the Air Fighter-P with extreme care. The manufacturer and distributor of this product are not responsible for injuries to persons or damage to car.
Description
:
Description: The Air Fighter-P slides between the car door and the weather stripping on the doorframe. Once the pump is squeezed, inflating the Air Fighter-P, the car door separates from the frame. This allows plenty of room to insert a car-opening tool. Multiple Air Fighter-P units can also be used for installing windows and doors, and holding doors open while installing door hardware. The Air Fighter-P is equipped with a bulb pump and release valve for quick and easy inflating and deflating.
For Automotive Openings
Operation
:
1.
Insert the deflated Air Fighter-P between the door and the weather-stripping at the top corner (see fig.A) the car door furthest from the hinges, or insert Air Fighter-P as fig.B.
2
. Squeeze the pump to inflate the Air Fighter-P creating a gap between the door and the weather stripping.
3.
Insert a car-opening tool and unlock the car.
4
. Press the release valve to deflate.
Installing Windows and Doors
The Air Fighter-P holds windows and doors in place while leveling for easier installation. Simply slide the Air Fighter-P around the window or door (both top corners and center bottom) and inflate.
Specifications
:
1.Thickness (deflated)
: 2 mm(0.08")
2.Thickness (maximum inflated)
: 70 mm(2.75")
3.General pressure
: 98kgs(220 lbs)
4.Maximum pressure
: 196 kgs(440 lbs)
5
.
Material
: fortified Vinyl