Oscar Locksmith Supply Sdn. Bhd.
39, Jalan Austin Height 3,
Taman Mount Austin,
81100 Johor Bahru,
Johor, Malaysia.

+607-3613266

+607-3613266

GL-368C
Key Machine --- Gladaid ---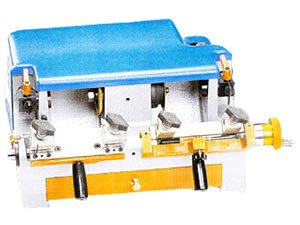 THE specially designed two horizontal motion
wheels control the motions of carriages individually,
with the golden wheel controlling the right carriage
and the small white handle controlling the left one.
LEFT CARRIAGE :
This newly designed 4-ways vises set helps
your duplication with unsurpassed accuracy.
The vises are much stronger than before.
RIGHT CARRIAGE :
Two layers jaws can duplicate the special keys.
No extra accessory is required.
DIMENSIONS :

MOTOR :
Width
450mm
Single-phase
Depth
320mm
HP 1/4
Height
220mm
Rpm 1720
Net Weight
25kg
110V or 220V
Gross Weight
27kg
50Hz or 60Hz
Measurement
3.2 Cubic Feet